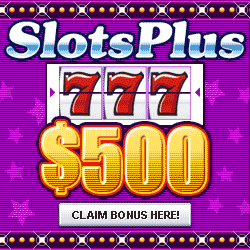 Slots Plus Casino offers three main deposit bonuses depending on which level of bankroll with which you wish to play. Smaller deposits of $100 and under will earn a 125% bonus. If you decide to deposit $50 you will be credited and additional $62.50. Depositing over $100 up to $100,000 will earn an automatic $125 for the initial $100 in the deposit, then a remaining 25% for every dollar left over from that initial $100.
Slots Plus also awards players that sign up through their preferred deposit methods with a 15% bonus. These methods include NETeller, INSTADEBIT, Money Order or eWallet Xpress. These bonuses are only included in the initial deposit on the site. Also in order to receive the bonus amount, you must first wager 40 times the amount that you have deposited plus the bonus.
Recently I decided to deposit money on Slots Plus Online Casino. Through the varying offers and promotions they provide, I thought it would be most beneficial to deposit $150. Depositing under $100 would award myself with a 125% deposit bonus, leaving me with a total of $225. Instead depositing slightly more with $150 raises my bankroll to $300. Also by depositing through NETeller I earned an additional 15% on my deposit, which is one of the simplest methods of depositing money online.

Slots Plus Casino Games
Slots Plus offers a large variety of online casino games and slots. All of the large name games are available to play such as Roulette, Blackjack, 21, and Baccarat. The majority of games however are the classic slot machines and video slots. These realistic online slots appear as they would in any casino. They are also the best method for earning the deposit bonus that you wish to obtain because the larger name games such as Blackjack and Roulette are excluded methods of earning the bonus cash. Progressive games along with Keno are also available to play.
Existing Player Bonuses
Players that have been continually playing online with Slots Plus Casino are eligible for existing player bonuses. These bonuses include a $1,000 weekly award, quick verification award, Slots Plus Loyalty Program, and a Refer a Friend Promotion.
Every week Slots Plus awards 10 randomly selected players with $100 free cash! Also Slots Plus enjoys having their information and files updated as frequently as possible, so updating your file will earn a bonus determined by Slots Plus. Comp points are also earned through their loyalty program that can be redeemed for cash. Three main levels exist depending on the amounts you wager, but all do provide players with the opportunity to earn free points. Referring a friend will also earn $20 free bonus dollars awarded to your account. So besides the rewarding initial deposit bonuses, many proceeding bonuses are available for those that continually play.